How Can Polyhouse Farming in India Be Profitable?
Thanks to polyhouse farming, commercial producers in India have access to various opportunities. Before we get too further into this, let us define the term "polyhouse." 
The high-value crops growing below a polyhouse, a covered structure made of metal pipes and angles, are shielded from the elements by polythene. Modern poly homes have state-of-the-art climate management technologies to maintain a comfortable inside.
Today, we'll discuss the extent of a polyhouse making company in India, its advantages or benefits, associated costs, subsidies provided by the government there, and its financial viability.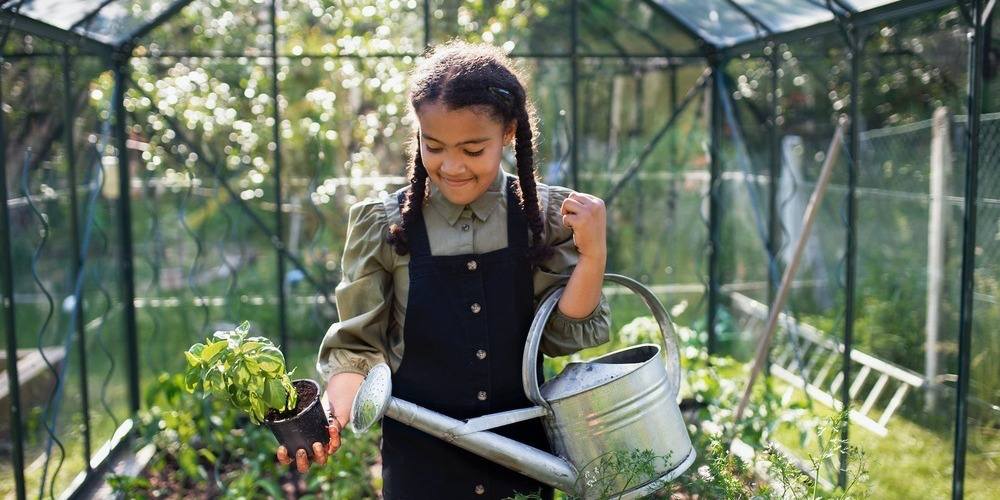 Is Polyhouse Farming Profitable?
Polyhouse farming is a prime example of precision farming because of the efficient use of resources and the superior quality of the harvest. Commercial producers in India use polyhouses 
Fruits and vegetables comprise over 92% of the nation's total horticulture production.
Polyhouses are used to produce crops to protect them from harmful outside elements. By examining its benefits, you can see how polyhouse farming is superior to traditional farming.
India's polyhouse farming offers a number of advantages.
High-Quality Product
Consumers prioritize quality while purchasing food. Demand is never an issue if your product is of high quality. Equipment in the polyhouse, a safe structure, continuously tracks the crop's growth and development.
The supply of fertilizers and water is carefully controlled in polyhouse farming. It helps to maintain the industry's high standards of quality.
The best examples of crops usually grown vertically inside a polyhouse are indeterminate tomatoes and cucumbers. Crops can be vertically cultivated. According to statistics, tomatoes make up about 12% of all veggies grown in India.
In a polyhouse, vertical crop production boosts yield three to four times while allowing the grower to maximize the available area.
The simplicity of training and plant pruning are additional advantages of growing crops vertically in a polyhouse. Regular pruning encourages the plant to develop more quickly.
Controllable Climate 
The temperature inside the polyhouse increases in regions like Punjab, where the average March high temperature surpasses 30 °C. With a controlled atmosphere, farmers can grow plants where agricultural development is impossible.
Equipment in the polyhouse controls variables like humidity, temperature, and air ventilation. A fan-pad system is used to control the temperature within the polyhouse. 
Sensory apparatus and a computerized control unit keep tabs on the polyhouses inside the climate. It modifies the fan-pad system to maintain the ideal conditions for crop production.
Facilities for climate control assist growers in the off-season production of vegetable and fruit crops and the year-round production of floricultural crops.
Higher Yield with Significantly Greater Productivity
Polyhouse farming can increase agricultural yields by 10–12 times, depending on the crop variety and crop management.
Numerous biotic and abiotic factors, such as crop type, insect and disease management, nutrient management, and environmental factors, impact crop output.
With polyhouse farming in India, growers may precisely control the fertilizer supply, maintain the appropriate temperature range of 18 to 24 °C, control humidity, and maintain air circulation. They all work together to raise crop yields per acre of land. 
Polyhouses can increase output by utilizing cutting-edge growing techniques like hydroponics and aeroponics. The hydroponics technology reduces water usage by 80–90%.
Grants and Instruction For Polyhouse Farming
Commercial farmers or growers who want to build a polyhouse struggle with two main problems: a lack of capital and insufficient training. The programs of the National Horticultural Board are accessible to farmers.
Under this particular plan, "Development of Commercial Horticulture through Production and Post-harvest Management of Horticulture Crops," with a maximum of Rs 56 Lakh, the beneficiary receives a 50% subsidy for constructing a polyhouse. 
Some governments will offer a subsidy of up to 80% if a farmer constructs a playhouse that is 2,000 square meters or larger.
In India, numerous governmental and private organizations support upskilling initiatives for farmers. You can browse our website to learn more about polyhouse making, like the cost of polyhouse farming.
Conclusion 
Polyhouse farming has many benefits. It is a more efficient farm, using less water and land. It also allows farmers to control the environment, leading to higher yields. In addition, it can protect crops from pests and diseases and provide a stable source of income. 
Agriplast Protected Cultivation is India's Largest Greenhouse Factory, with a total infrastructure area of several acres. The experienced team of professionals possess in-depth knowledge and easily solves any of your farming-related queries. Agriplast Protected Cultivation is a well-known Polyhouse Manufacturer in India that strives to offer the best possible outcomes and workable solutions to help you lead a continuous growth process. Contact us to learn more about polyhouse farming!